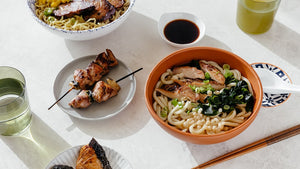 Healthy Japanese meals prepared fresh weekly and delivered to your door
Authentic cuisine is often inaccessible because it's local. Yoko Street brings these culinary experiences to you.
Get Started
What People are Saying about Yoko Street
"This trial definitely met my expectations for a new experience at a fantastic price as well as learning new cultures."
"This trial was amazing. I cannot believe how SIMPLE the preparation was…with Yoko Street the food is just plain GOOD!! Honestly the best meal order program I've ever tried."
"The food was delicious and it was fun trying foods that I don't typically make."
How Our Weekly Plan Works
Why Yoko Street
Local Flavors
Regionally and seasonally specific Japanese meals, commonly found in mom and pop restaurants, home kitchens, and food stalls. Now available in standard and vegan options.
Superior Quality
Sous vide cooking method for flavorful, high-quality meals conveniently reheatable.
Healthy
Our meals encompass the essential elements of a balanced nutrient-rich diet, from beans and vegetables to sesame and seafood.
Get Started